FTC Disclosure - If you make a purchase via a link on this site, Card Making Circle may receive a small commission on the transaction.
Amazon Disclosure - As an Amazon Associate Card Making Circle earns from qualifying purchases.
 All at no added cost to you. Thank you!
Card Making Tools
Card Making Tools
What card making tools do you need to make your own handmade greeting cards?
The most essential component is paper and cardstock.  This can vary in size, thickness, colour, texture and quality.
Most people start with plain International A4 card or US Letter size card in a white or cream/vanilla to make the card base. Using other coloured cards and paper for layers or decoration.
Cutting a stock of card bases saves time as it's easier to get started if these are already prepared. 
Have a selection of scissors for different tasks:

Large paper scissors for cutting sheets of card or layers.
Small paper scissors with a pointed edge for "fussy" cutting and another pair for cutting ribbon or fabric.
"Fussy" cutting means trimming around a image or shape with scissors

Scissors that have been used on paper or card blunt quickly and leave material with a frayed jagged edge so make sure you don't mix them up.
Ideally, purchase a paper trimmer or a guillotine as it's so simple to cut straight edges and to cut the card/paper to size.  It also has the added bonus of being able to cut several sheets at the same time.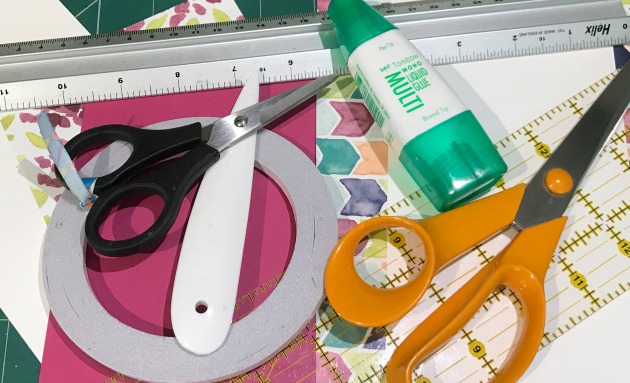 For measuring a metal safety ruler costing a few pounds from a stationary store is ideal.  As well as being non slip the centre gutter allows you to steady the ruler with your fingers when drawing or scoring a line.
These show metric and imperial measurements.  
Why is this important?
Imperial measurements are traditionally used in card making as the hobby along with scrapbooking has it's origins in the USA.  Layers on cards usually decrease by 1/4".
Large card or designer paper is sold in 12" squares.  
(For more information see Card Sizes and Layers)
A wide patchwork ruler made from heavy duty acrylic is also useful as they are marked out in inch grid boxes and the measurements are easy to read.
An absolute must have is a bone folder.  It is made of plastic and sits neatly in the hand.
To use the bone folder fold a piece of card in half and press using the edge of the bone folder along the spine of the card to create a clean crisp edge.  Much neater than folding in half and pressing down with your fingers.
And that's not all as you need something to stick it all together! The most commonly used adhesive is a multi purpose glue and double sided tape.  
Glue dots, glue pens, glitter glue will also be useful for your projects.
This has been a quick run through of the basic essentials for getting started with your card making projects.
Card Making Tools