FTC Disclosure - If you make a purchase via a link on this site, Card Making Circle may receive a small commission on the transaction.
Amazon Disclosure - As an Amazon Associate Card Making Circle earns from qualifying purchases.
 All at no added cost to you. Thank you!
Card Making Adhesives
Card Making Adhesives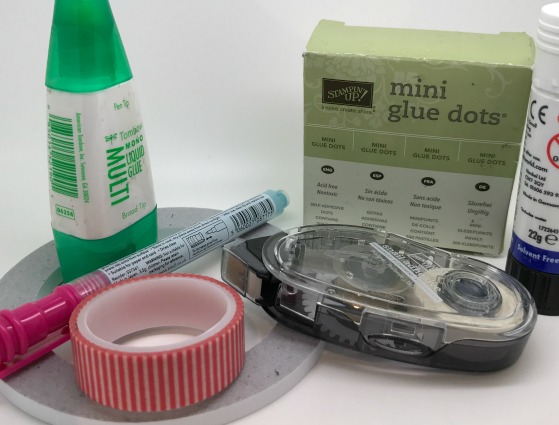 Choices..... Choices....Choices...
Which card making adhesives to use? The options are endless!!
Your best choice is the right one for the job!
There isn't a single product that does everything. And each card maker has their own personal preferences.
So let's look at some of the most popular options and make some comparisons so you can make up your own mind what's right for you...
Multi Purpose Liquid Glue


This is my main go to glue as you can use it for almost anything!
It dries clear and although it sticks strongly there is enough time to make small adjustments (wriggle room!).
Tombow Mono or Nuvo Deluxe Adhesive both have a narrow tip for precise gluing. They are economical as you only need a small amount.
Tape Runners


Tape runners are easy and quick to use. The runner is a roll of adhesive tape encased into a plastic shell that fits neatly into your hand.
They can be permanent or repositionable. Some are available with refills.
Useful for sticking layers of card or paper to card.
Glue Pens


Glue pens are great for when you want to stick something small and need to be precise with the glue. For example when sticking intricate die cuts.
Double Sided Tape


This is used for sticking layers of card to the card base. The tape is available in varying widths.
Double sided tape is also good for sticking fabric to cards.
It is difficult to reposition once placed into position and if you pull it up it will rip the card.
Glue Dots


Glue dots are tiny little blobs of glue on a roll. Use these to hold small embellishments, card, sequins or ribbon.
Foam Pads


Foam pads are sticky on both sides. They are available in strips and different sized shapes (hexagons, squares, circles).
Foam pads add depth and dimension to cards to create a 3 D effect.
Washi Tape
 
Washi tape provides a temporary adhesive such as holding dies in position on card. You need to take care in removing the tape as it may tear the paper or card.  But so long as you don't press it down too firmly you should be OK.
Other Adhesives


You might have other types of card making adhesives in your drawer and there is nothing that says that you can't use them!
Craft enthusiasts may also have a glue gun, tubes of glue gel or spray glue lurking at home.
PVA or school glue is widely available and dries clear. For card making it can sometimes be a bit too thin and wet.
Glue sticks are a popular choice for children and for sticking large pieces of paper.  They sometimes leave lumps which show through the paper when you stick it down.   So not such a great choice if you want a professional finish.
Card Making Adhesives