FTC Disclosure - If you make a purchase via a link on this site, Card Making Circle may receive a small commission on the transaction.
Amazon Disclosure - As an Amazon Associate Card Making Circle earns from qualifying purchases.
 All at no added cost to you. Thank you!
Stretch Your Supplies
Stretch Your Supplies
Do you feel tempted into buying lots of new supplies?  It all looks so enticing.  And of course, expensive!

Recently I've been looking how I can stretch my supplies and rediscovering some of my older purchases.
I decided to ask myself how much I'd used a particular item.  And let's be honest here - If I've only used a stamp set for one card that was a very expensive card!
So, I'm challenging myself to look at different supplies and come up with innovative ways to use them.
Join in and let me know how you stretch your supplies ideas below.....
Using Scrap Paper


So, let's start with the one thing I'm sure you have a lot of – Scraps! 
What do you do with your scraps?  Do they start as a pile on your desk only to end up up in the recycling?
Or are you like me saving every bit because one day they will come in useful!
Getting Organised


First things first I decided to merge my piles of scraps into one place - by putting everything on the kitchen table.
I sorted the scraps into piles of the same colour families.  
Then used file pockets to separate the different colours.  
Left over/unused paper pads/matching paper were placed in plastic bags to keep the designs together.
Now I was organised I had to decided what to do with them.....
Patterned Paper


Make simple cards with left over patterned paper.  Use either a punch or trimmer to cut your patterned paper into strips or shapes and mount onto your card base or card layer.

Let's look at a few examples....
This card was made used a  1 1/2" square punch and a 2" circle punch and 2 1/4" starburst circle punch for the sentiment.
A quick and easy card that's can be replicated from any scraps.
Alternatively, mount your patterned squares on slightly larger plain card squares to use up some of your plain card supplies.
My second card uses large pieces of patterned paper.  It was cut and layered onto plain card before mounting onto a contrasting card layer.
For the sentiment I used the same punches as the previous card.
If you have lots of tiny pieces try this card.  Created by cutting the paper with a one inch hexagon punch.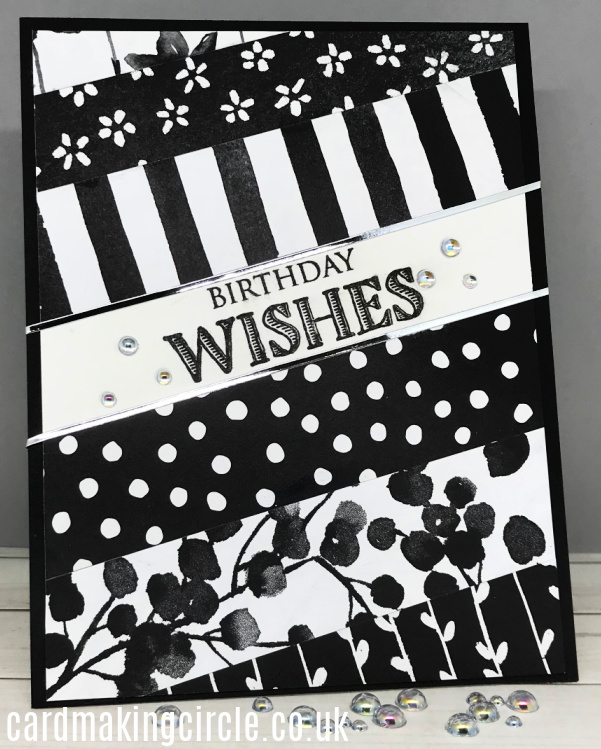 If you use patterned paper you end up with a multitude of strips especially from the 6 x 6" paper pads.
Here the patterned paper scraps has been used diagonally across the card.
To make the card I first drew a diagonal line across a white card layer and stamped the sentiment just above the line.
With the sentiment in place I glued strips of varying widths before mounting onto a black layer and the card base.
Silver strips and embellishments were added to complete the card.
If you don't have any punches just rip the paper using the collage method.  Rip up bits of your left over paper and glue them together on a backing sheet. I like to leave the white ripped edge showing - it is what it is!
To give the paper a more mixed media look I used a script stamp in black ink over sections of the collage.
The collaged sheet was cut with a crinkle die to give the impression of ripped edges and mounted onto a die cut layer before adhering to the card front.
Creating Embellishments


Use your card scraps to make into your own embellishments and save yourself a ton of cash.
Here are some ideas....
Use heart and star punches to make a bunch of shapes from left over silver and gold card.  Store in small containers ready to use.
Stamp all those left over white card strips with sentiments and place in a jar or see through envelope for times when you need to make a quick card.
Create tags in a variety of sizes and shapes.  Decorate with patterned paper/washi tape/twine/ribbon.  Either use as gift tags or add to the front of your card.
Make card toppers with your left over card and patterned paper ready to add to card layers.
Punch or die cut a stack of flowers/leaves/word dies.
More Ways to Stretch Your Supplies


Check out these pages....
Stretch Your Supplies